Makhuwa Brazilian JiuJitsu
About Us
Makhuwa is an indigenous language of Mozambique, spoken primarily by the Makua people. As a Makua himself, Makhuwa Brazilian JiuJitsu owner Blessed Matai embraces the roots and history of the tribe he belongs to. Blessed Matai has brought together a tribe of instructors to bring out the very best in everyone who joins Makhuwa Brazilian JiuJitsu. And through his martial arts instruction, he instills the same values of community and belonging. When you join the tribe at Makhuwa Brazilian Jiu Jitsu, you'll be welcomed into a safe space where everyone is expected to be respectful and an overall good person.
History of Makhuwa Brazilian JiuJitsu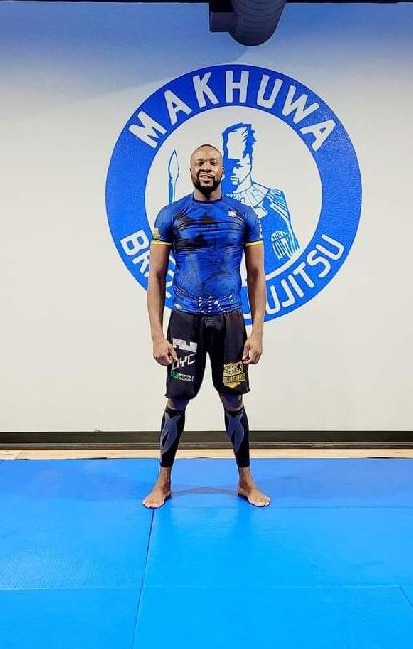 History
Makhuwa Brazilian JiuJitsu founder Blessed Matai is an athlete and competitor at his core. Growing up surrounded by sports, he eventually played D2 basketball at Abilene Christian University, before moving on to a stint in the world of professional basketball. As he moved on and left basketball behind, he set his sights on Martial Arts and never looked back. Training under Bruno Bastos, Matai eventually earned his black belt and built up a strong list of accolades along the way. He has earned multiple IBJJF World Masters medals, including a gold in 2018. Beyond JiuJitsu, he became a 2017 West Texas Golden Gloves Champion. He also trained MMA under former Bellator/XFC/Legacy Fighting Championship veteran Brandon Farran and later under Bradley Barnes.
This impressive resume equipped Matai to be a prime candidate to open a BJJ school. And that's exactly what he did. Makhuwa Brazilian JiuJitsu opened in 2020 in Stephenville, Texas, creating a space where Matai could share his athletic prowess through Martial Arts instruction. Serving as a peace officer in the State of Texas & a police officer with The Tarleton State University Police Department also allows Matai to provide a unique service to current or prospective law enforcement officers. As a certified instructor in both PPCT and SHARP, Matai offers valuable self-defense training at Makhuwa Brazilian JiuJitsu that you won't find anywhere else.
Makhuwa Brazilian JiuJitsu
Instructors
Here at Makhuwa Brazilian JiuJitsu, our staff is the secret to our student success. Each instructor has a rich background in martial arts and is eager to train the next generation of martial artists. Meet the team below!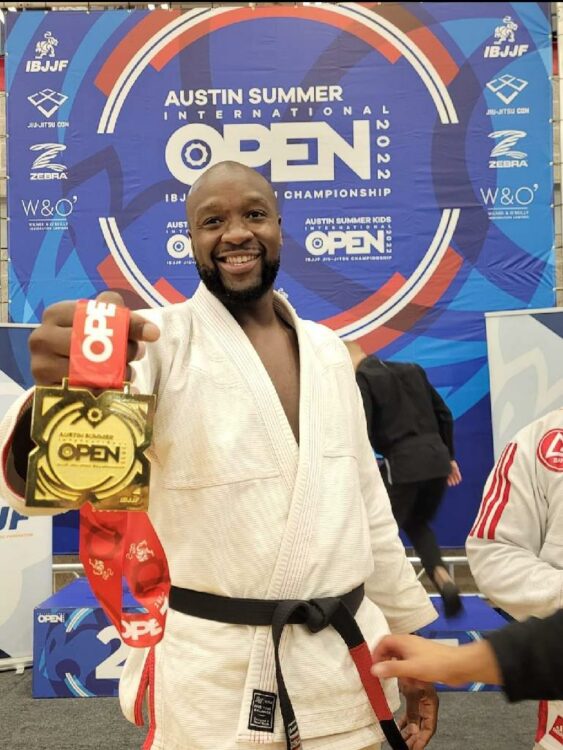 Head Instructor
Professor Blessed Matai
Black Belt under Sensei Bruno Bastos, a 5th Degree Black Belt and multiple-time World Champion, Pan Champion, and European Champion
Accomplishments
2018 Master Worlds Champion (Purple Belt)

World Master Jui Jitsu Champion.
Coach Blessed is currently a certified Peace Officer in the State of Texas & a Police Officer with The Tarleton State University – Police Department.
Former D2 and Professional Basketball player – played and graduated from Abilene Christian University with BS in Broadcast and Journalism.
Coach Blessed is a certified Texas Commission on Law Enforcement (TCOLE) Defensive Tactics Instructor.
PPCT – (Pressure Point and Control Tactics) – Certified Instructor
SHARP – (Sexual Harassment Assault and Rape Prevention) – Certified Instructor
Currently 4 – 0 in Amateur boxing and 0 – 1 in Amateur MMA
Coach Blessed trained in Boxing under legendary West Texas and Olympic boxing coach David Rodriguez.
Coach Blessed is a 2017 West Texas Golden Gloves Champion.
Trained in MMA under former Bellator/XFC/Legacy Fighting Championship veteran Brandon Farran and later under Bradley Barnes.
Competed in 4 IBJJF (International Brazilian JiuJitsu Federation) Master Worlds Championship earning Bronze, Silver and Gold medals.
Read More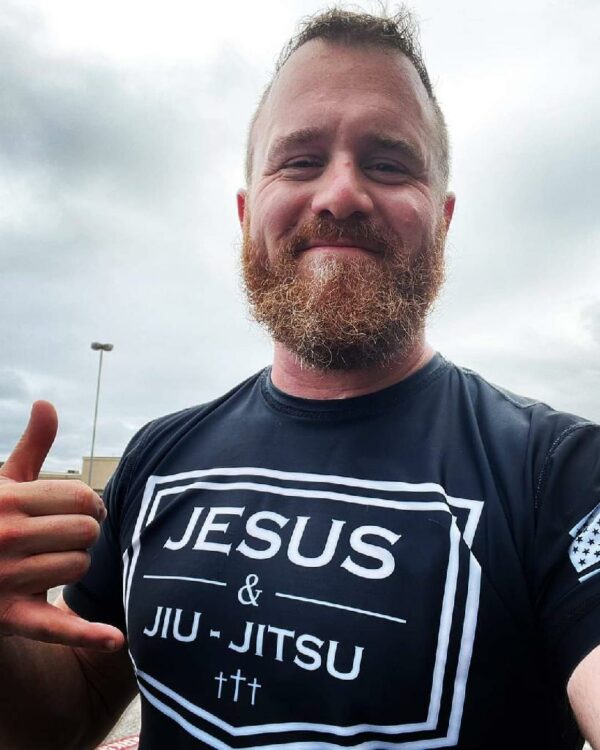 Lil Ninjas Assistant Coach
Raz Shafer
Nickname: Too many to count!
Favorite color: Gunmetal
Hobby: BJJ, Hunting and Playing music
Marital status: Married 9 years
Kids and spouse names: My bride is named Jennie and my boys are Stoney and Cannon
Birth town and state: Waco, TX
HS: Homeschooled here in Erath County
Favorite food: Beef BBQ
Favorite movie: The Man Who Shot Liberty Valance
Favorite quote: "The truth is incontrovertible. Malice may attack it, ignorance may deride it but in the end, there it is." -Winston Churchill
Favorite Bible verse: 1 Peter 3:15 "But sanctify the Lord God in your hearts: and be ready always to give an answer to every man that asketh you a reason of the hope that is in you with meekness and fear"
Fun Fact about you: I play the violin, viola and guitar.
If you won the lottery, what would be your first move: Buy a ranch in Montana/Idaho and spend half the year up there…it'd need to be close to a BJJ gym!
Why did you start training JiuJitsu: I started training JiuJitsu in mid-2019 because I wanted to challenge myself physically and be better capable of physically defending my loved ones. I've struggled with weight and fitness since childhood and rarely took on physical challenges that I wasn't sure I could succeed at. I knew JiuJitsu would humble me and push me, both mentally and physically in ways I could only imagine. It's been all that and more!
Read More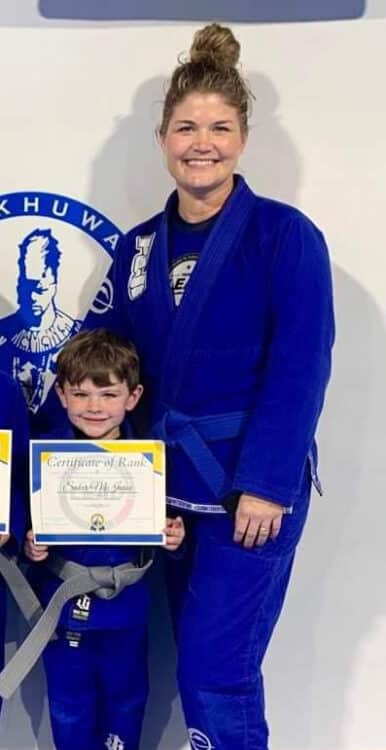 Big Kids Coach
Mika McInroe
Nickname: Mom, Coach Mika
Favorite Colors: turquoise blue and olive green
Hobby: Sports with the boys 🤼‍♂️🏀🏈⚾️, hunting and selling real estate 🏡
Marital Status: Married for almost 13 years to Coach Jeremy!
Kids and Spouse Names: Silas & Saker, husband Jeremy
Birth Town and State: Born in Stephenville
HS: Huckabay
Favorite Food: Chips and salsa, Mexican food and Indian food
Favorite Movie: Steel Magnolias
Favorite Quote or Bible Verse: "As iron sharpens iron, so one person sharpens another." Prov 27:17
Fun Fact About You: I am a certified scuba diver
If you won the lottery what would be your first move: buy more land, build Makhuwa a new facility and go on a long vacation!
Why did you start training in JiuJitsu: Our boys started training when they were 3 and 5, then Jeremy and I started about 2 months later. One of the best decisions I've made!
Read More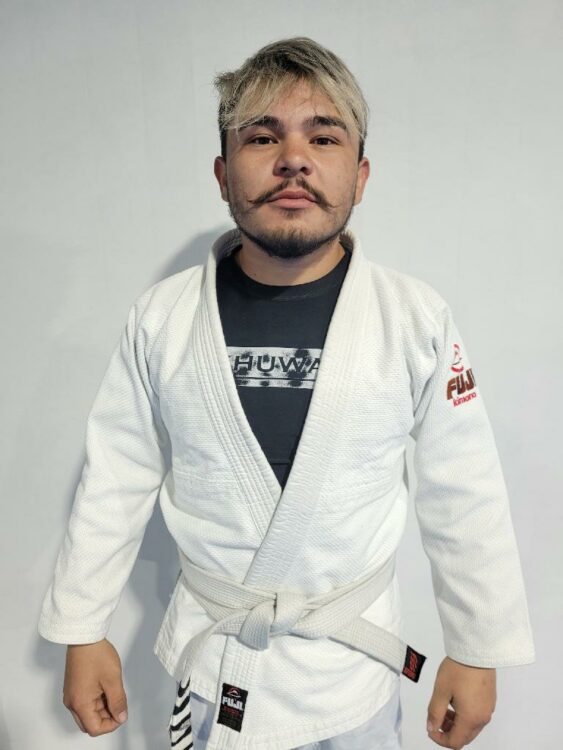 Lil Ninjas and Big Kids Assistant Coach
Juan Villa
Nickname: JJ
Favorite Color: Warm Colors
Hobby: Watching Anime
Birth town and state: Stephenville, Tx
High School: Stephenville High School
Favorite Food: Anything Pasta or Seafood
Favorite Movie: Berserk (all 3)
Hobbies: I love going to concerts
Why did you start training in JiuJitsu: I got tired of being at home doing nothing after work. I wanted to change my life so I started training.
Read More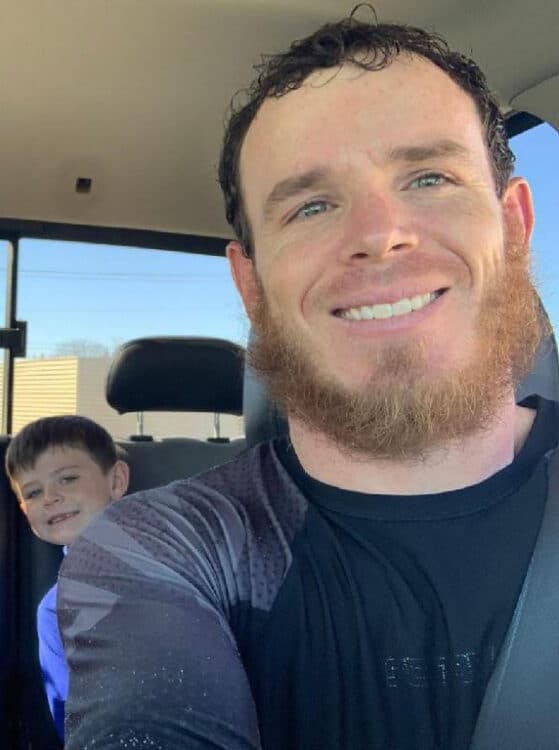 Jeremy McInroe
Nickname: Irish Dragon, Mac Attack
Favorite color: Green
Hobby: Activities with my kids: Jiu Jitsu, Baseball, Basketball, Football, Hunting, Fishing, Hiking, Trail Riding, Farm/Ranch
Marital status: Married
Kids and spouse names: I have two boys named Silas and Saker. I am married to Mika McInroe.
Birth town and state: Stephenville, Texas
HS: Huckabay ISD
Favorite food: Pizza
Favorite movie: Braveheart
Favorite quote or Bible verse: Galatians 6:7 – Do not be deceived: God is not mocked, for whatever one sows, that will he also reap.
Fun Fact about you: I married my high school sweetheart.
If you had won the lottery what would be your first move: Invest and give back to good causes.
Why did you start training in JiuJitsu: I have anger management issues and JiuJitsu seemed like an avenue where I could release all that pent-up anger…just kidding! It's a fun way to learn grappling techniques for self-defense, challenge yourself to get better, make friends and get really good exercise from it.
Read More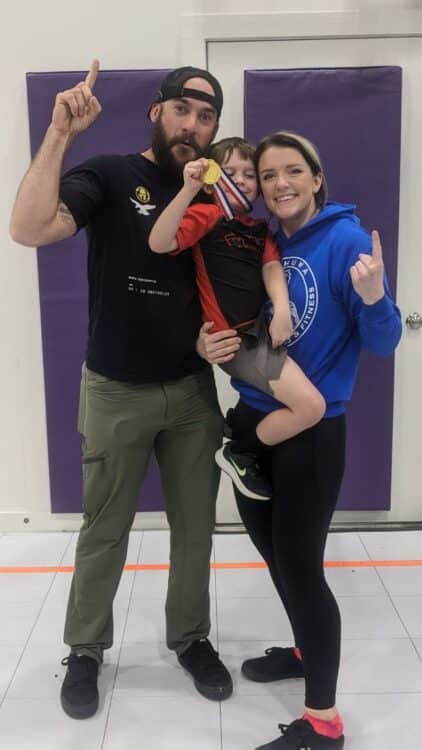 Womens Self Defense Assistant Coach
Jacqueline Long
Nickname: Jackie
Favorite color: Black🖤
Hobby: Hiking
Marital status: Married
Kids and spouse names: Xander and Maverick are my two hooligans and Colton is my husband of 10 years 💞
Birth town and state: Birmingham, AL
Favorite food: Wings🔥
Favorite movie: Scream or Steel Magnolias, depends on my mood 😂
Favorite quote or Bible verse: "Do the best you can until you know better, then when you know better, do better." -Maya Angelou
Fact about you: I took dance for 15 years (the majority of my childhood)
If you won the lottery what would be your first move: A mountain home in Colorado ⛰️
Why did you start training in JiuJitsu: I started training to lose weight and quickly became obsessed!
Read More
Excellent school with a keen understanding of teaching children AND adults in Brazilian JiuJitsu and kickboxing. The lead instructor here has a long history of serving Texas and her communities and the city of Stephenville can expect nothing less than excellence. The academy is friendly, inviting and most importantly, clean. The instruction is next level as the Coaches here have both real-life experiences with self-defense and high-level sports experience making it the perfect place to learn a martial art.
My whole family trains here under Professor Blessed Matai. My youngest is in the little ninja classes (ages 4-6), my other child is in the kids' classes (ages 7-14), and I and my husband take kickboxing and Brazilian JiuJitsu, gi and no-gi classes here. We absolutely adore the people and training we get at this gym! If you're considering trying out some martial arts classes I 1000% recommend coming and trying out a class with us. You will not regret it!
My family loves Makhuwa BJJ. My youngest is in the little ninja class (4-6) and my oldest is in the kids class (7-13). We have learned so much in our time with Makhuwa BJJ about both the sport and ourselves. Professor (Coach) Blessed does an amazing job with his teaching. I find myself encouraged at how far I have come and always excited to continue my journey . It really feels like we are a family, encouraging and challenging each other on the mat. I highly recommend the experience.
Amazing coaches, a safe environment and excellent training!! BJJ for kids, youth and adults. Holds regular BJJ, Kickboxing and Yoga classes. Also does self-defense classes as well. You want a fun and healthy environment to learn and grow? This is where it's at! Questions? Call and ask, they're very welcoming and professional. This place truly deserves every bit of the 5-star rating it's being given
I've been training with the Makhuwa BJJ team for about 6 months now and couldn't be more impressed. Professor Matai has a wealth of knowledge and experience. The team is made up of sharp, motivated individuals.
Makhuwa BJJ is amazing!! The coaches are top-notch! My kids train here and this has been the best thing for my son! My son has been attending for a little over a year now and he can not get enough of it! It has helped his drive, his determination and confidence! My daughter also trains here when she is 5 and she loves it. The coaches are amazing with her. It's great for her to learn leadership and respect and hard work! I could talk about this gym forever and still not tell you enough!!!! If you are not sure about it, try it out because I was terrified to let my son try but you won't find a better place. They take care of the kids, keep them safe and teach them the right way!
Join Makhuwa Brazilian JiuJitsu and take charge of your life.
Special Offers